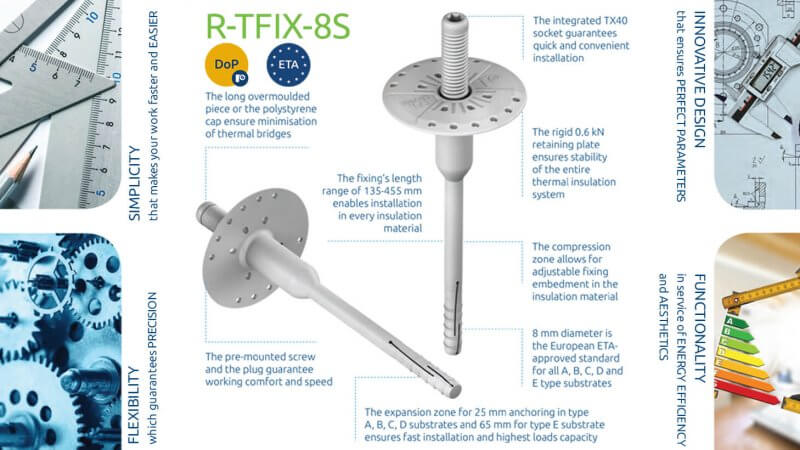 SIMPLICITY – that makes your work faster and EASIER
R-TFIX-8SX stands for a genuine breakthrough in terms of installation simplicity, making your work significantly more convenient. Now it takes only one move with a screw gun to make a hole in the insulation material and anchor the fixing in the substrate. Mask the hole with a post-installed cap and you are done. It has never been so effortless since you no longer need to cut the polystyrene first and then screw the anchor in.
FLEXIBILITY – which guarantees PRECISION
R-TFIX-8SX offers the simplicity of installation and embedment adjustment. The robust steelhead of the screw that withstands high loosening forces makes it possible to undo and reinstall it. You no longer need to worry about the anchoring precision and appearance, as it is now possible to adjust the fixing embedment. This proves particularly important on uneven facades where surface irregularity is typically eliminated using thermal insulation panels. The R-TFIX-8SX fixing allows you to do it upon installation, delivering effects you will find immaculate.
INNOVATIVE DESIGN – that ensures PERFECT PARAMETERS
R-TFIX-8SX stands for innovative design meeting the highest quality requirements of professional thermal insulation systems! Not only does it match all types of thermal insulation panels and all substrate materials, but in all of them, it also displays top parameters confirmed by the European Technical Approval, which should be recognised as something completely unparalleled considering former design engineering standards.
FUNCTIONALITY – in service of ENERGY EFFICIENCY and AESTHETICS
Using the R-TFIX-CAP system insulation caps eliminates thermal bridges and reduces the risk of facade discolouration spots which are clearly visible on all facades where insulation material has been fixed by means of traditional fasteners of excessive thermal permeability causing stains to emerge at the fixing point. And using caps made of the same material as the facade insulation makes it additionally possible to develop a uniform surface that homogeneously responds to environmental conditions, which also contributes to minimisation of the spot discolouration threat.

See our full range here or download our product leaflet to get even more information.