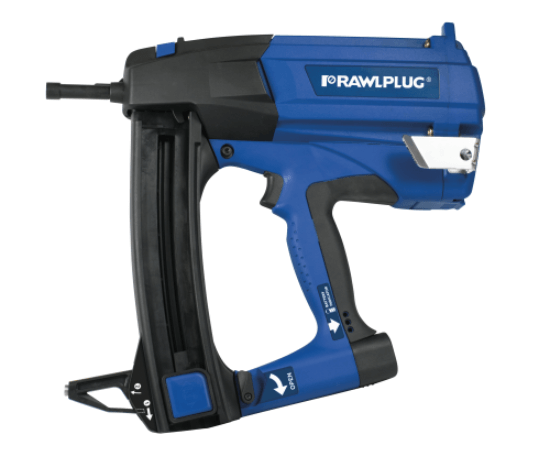 Second generation concrete nailer
New solution from Rawlplug for manual and direct fastening systems: the R-RAWL-SC40 2nd generation gas powered nailer from Rawlplug brings changes for improved key tool parameters. Long-lasting lightweight lithium-ion battery pack, superior protection against contamination and improved ergonomics making even prolonged works comfortable – the new tool version has significantly developed in all these aspects. Combining reliability of the original with the 2nd generation's innovativeness has brought you an infallible and user-friendly mechanism that satisfies the stringent requirements of construction professionals.
All new power pack – Pack with the capacity of 2.5 Ah and the 7.2 V voltage, the Li-Ion battery enables you to perform up to 8,000 fixings following single 30-minute long charging. By placing two such batteries in the nailer set, we have managed to significantly shorten the downtime formerly required for charging.
Saving functions – Functions such as the battery level indicator and switching to standby mode after 10 minutes when idle make it possible to control the readiness of the device and save power.
Fast charging – The quick 2-minute charging option which suffices for 200 fixings is a perfect solution whenever the job must be completed and the battery is completely flat.
New dust protection – The new front section casing provides far superior protection of the nailer's internal components against dust and other contaminants extending the tool's life by ca. 40%! At the same time, its shape has been designed in such a way as to ensure unconstrained working comfort even at inaccessible locations, e.g. near walls or columns.
Improved ergonomics – The new handle positioning has triggered far better tool balance and considerably improved the use experience, especially in prolonged jobs. This feature will be much appreciated by users working under floor slabs, where it plays a particularly significant role.
Variable fixing depth – The excellent precision of the 2nd generation R-RAWL-SC40 owes to the improved nailing depth adjustment system. The tool's two-position mechanism enables you to set the nailing depth in all applications regardless of the substrates type.
Direct solution for serial fixing
Lithium-ion battery – Up to 8,000 fixings
Energy consumption optimisation – Standby mode after 10 minutes when idle
Fast charging – 2 minutes +200 fixings
Improved dust protection – 40% longer service life
Improved ergonomics – Lowest weight on the market
Depth adjustment – 2 operating modes
Applications and substrates
Fixing drywall framing elements
Fixing cable and pipe clips
Fixing cable troughs and ducts
Fixing metal lath or membranes
Electrical works
Installation works